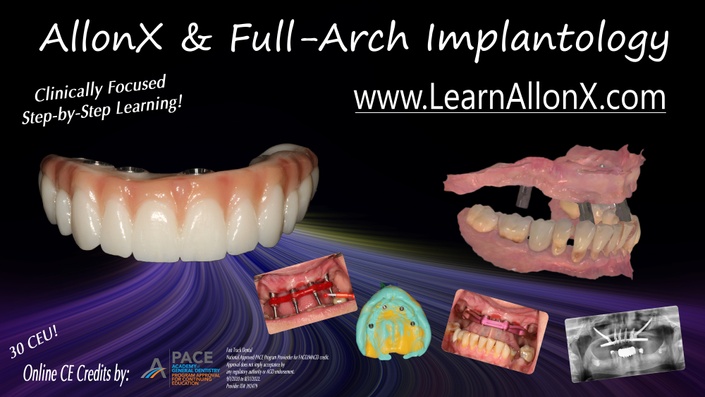 Step-by-Step AllonX and Fixed Complete Arch Prosthetics
Learn AllonX Diagnosis, Treatment Planning, and Clinical Techniques Step-by-Step!
Interested in knowing how to diagnosis and treatment plan patients for AllonX and fixed complete arch prosthetics? Do you want to learn the step-by-step techniques of clinical and laboratory procedures for cases before, during and after implants have been placed? Want to become familiar with the surgical applications of implant placement for AllonX?
This comprehensive course covers everything you, your assistants, and your laboratory needs to know about AllonX and similar fixed full-arch cases! We cover the basics all the way up to the advanced level methods diagnosis and treatment planning skills, pre-surgical workup, surgical and clinical techniques to do an immediate load bridge, definitive/final AllonX step-by-step protocols, and DIGITAL workflows for AllonX cases. Emphasis is placed on highlighting clinical step-by-step techniques including recorded videos of procedures!!
Also included is up to 30 continuing education credits provided with a certificate. Once fully completed, the course provides hours of video-based learning credits and independent study CE credits for your dental boards and AGD credits!
To receive the best education possible, this course is broken down into 7 sections:
Section I – Introduction & Essential Patient Factors for Fixed Full-Arch Dentistry
Covering the fundamentals and basics of fixed full-arch implantology, proper patient assessment skills, communication skills and getting patients to say "yes" more often!!
Topics include:
Background, History, and Impact of Complete Tooth Loss
Patient Examination Skills
Diagnosis & Treatment Planning Concepts
Chairside Communication Skills & Treatment Acceptance
Section II – Fundamentals of AllonX & Fixed Complete Arch
This section covers the fundamentals of the AllonX treatment philosophy, background of the Branemark method, scientific rationale for treatment, treatment planning implant number, position, location of dental implants. In this comprehensive section, we lay the groundwork for a deeper understanding of AllonX as a treatment philosophy and how they work clinically!
Topics include:
Fundamentals of AllonX Treatment Protocol
The Scientific Basis & Rationale for AllonX
The Role of Restorative Space Within AllonX Prosthetics
Choosing the Number of Implants for Maxillary and Mandibular Cases
Where Do We Place Implants for Fixed Full-Arch?
AllonX Biomechanics
Dental Implant Design, Osseointegration
Evaluating Options Regarding Implant Diameter & Length Options
Immediate Loading: Does it Really Work?
Understanding Passive Fit and Clinical Approaches to Ensuring Prosthetics Work Long-Term
Section III: Radiographic Planning: Traditional & Contemporary Concepts
An in-depth discussion regarding various radiographic options available for clinicians to best determine bone volume for AllonX therapy including contemporary cone-beam CT scanning techniques!
Topics include:
Traditional Radiographic Options: PA, Panoramic, CBCT
Making Radiographic Guides
CBCT Scanning Workflows
Patient Preparation for CBCT Scans
Making CBCT Scans & Options on Machines to Ensure Success
"Denture-Down" Treatment Planning Concepts
Relining Dentures with Radiopaque PVS Material & CBCT Scanning Techniques
Step-by-Step Case Planning Examples for AllonX Cases
Section IV: Step-by-Step AllonX Patient Preparation & Surgical Procedures
This section includes reviewing pre-surgical protocols and workup of patients for restorative procedures during surgery. Additionally, we cover how to best plan for AllonX surgery including instrument tray setups, equipment, and surgical techniques!
Topics include:
Pre-Surgical Protocols for AllonX
Impression Procedures for Immediate Load
Fabricating "In-House" Analog Classic Surgical Guides
Fabricating "In-House" Digital 3D Printed Surgical Guides
Anatomy Review
Instrument Choice for Surgical Procedures
Equipment Options
Surgical Techniques for Implants
Assessing Implant Stability
Choosing Prosthetic Components During Surgical Procedures
Section V: Restorative Procedures for AllonX –Immediate Load Interim/Temporary Surgical Conversion Prosthesis
From start-to-finish, we cover the nuts & bolts parts and steps associated with how to fabricate an immediate load / conversion prosthesis during surgery! We discuss, immediate loading protocols and how we clinically fabricate a prosthesis that will work for the patient and how to work in a surgeon's office, however, alternative options including collaborating a delayed prosthesis is discussed. Additionally, we demonstrate stackable AllonX cases and how to work up, treat, and perform immediate load prosthetics with stackable arch guides!!
Topics include:
Strategies for Immediate Loading
Preparing an Immediate Denture and Pick-up Temp Cylinders
Laboratory Steps to Trim and Polish the Immediate Load Prosthesis
Fabricating Soft-Tissue Analog Casts During Surgery
Patient Instructions & Post-Op Protocols
Stackable Surgical Guides – Workup & Introduction
Stackable AllonX Prosthetics, Step-by-Step
Section VI: Restorative Procedures - Definitive/Final Restoration After Implant Integration
Have you taken an AllonX course before and feel like instruction only really focuses on the surgical conversion prosthesis and find yourself asking… well what about the final teeth? In this this exciting section we cover in detail various approaches on how to choose your final restorative options. We cover many different approaches on how to make the definitive/final AllonX prosthesis and review for occlusion design, clinical impression procedures, laboratory techniques, and step-by-step clinical video-based techniques.
Topics include:
AllonX Prosthetic Workflow
Choosing The Type of AllonX Materials, PMMA vs. Zirconia vs. Titanium
Occlusion Concepts for AllonX Cases
PVS Impression Techniques
Fabricating Impression Jig & Splinted vs. Unsplinted Impression Techniques
Simple In-Office Laboratory Techniques
Confirming Impression Accuracy with the "One-Screw Test" and "Sheffield Test"
Clinical Try-In Procedures Before the Bar
Bar Design & Working with Laboratories to Design Bars Correctly
Clinical Try-in Procedures with the Bar – Final Check Before Prosthetic Fabrication
Clinical Delivery Procedures
Fabricating Occlusal Guards
Section VII: Digital AllonX Workflows – Intraoral Scanning, 3D Printing, and Thimble Based Restorations
Have you ever wondered… how does that clinician do those cases digitally? In this incredible section, we go through the SECRETS and step-by-step in-depth protocols of how to do AllonX cases start to finish the digital way! We cover how we make digital full-arch cases work using intraoral/optical scanning, 3D printing, digital design software, milling, and more!!
Topics include:
AllonX Digital Workflows
Step-by-Step Intraoral Scanning AllonX Cases
Understanding Full Digital vs. Hybrid Digital/Analog Workflows
Digital Design of Prototype Prosthetics for AllonX using exocad
Designing & 3D Printing Digital AllonX Models
Designing & 3D Printing Verification Jigs
3D Printing the Prototype Prosthesis
Fitting Ti-Bases and Adding Pink Gingiva to the Prototype
Clinical Try-in of the Prototype 3D Printed Prosthesis
Designing Thimble Bar AllonX using exocad
Milling Options for the Thimble Bar AllonX
Laboratory Techniques to Adjust the Bar, Opaque Application, and Fabricating Crowns for the Thimble Bar AllonX
Clinical Delivery of the Digital AllonX Prosthesis
Digital Occlusal Guard Techniques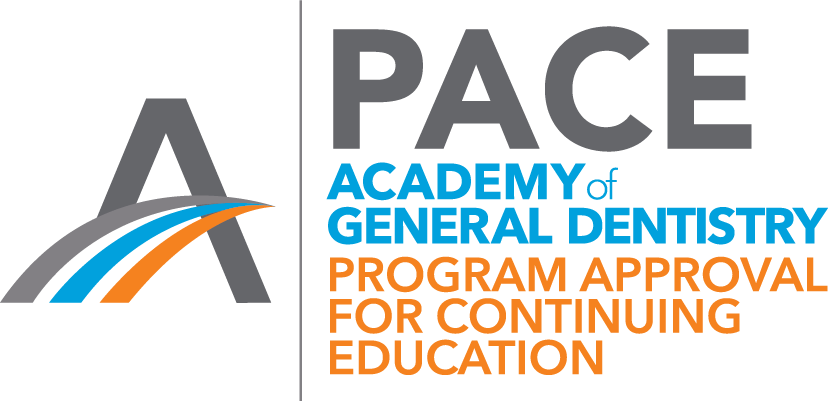 Fast Track Dental
National Approved PACE Program Provider for FAGD/MAGD credit.
Approval does not imply acceptance by
any regulatory authority or AGD endorsement.
9/1/2020 to 8/31/2022.
Provider ID# 392479
Your Instructor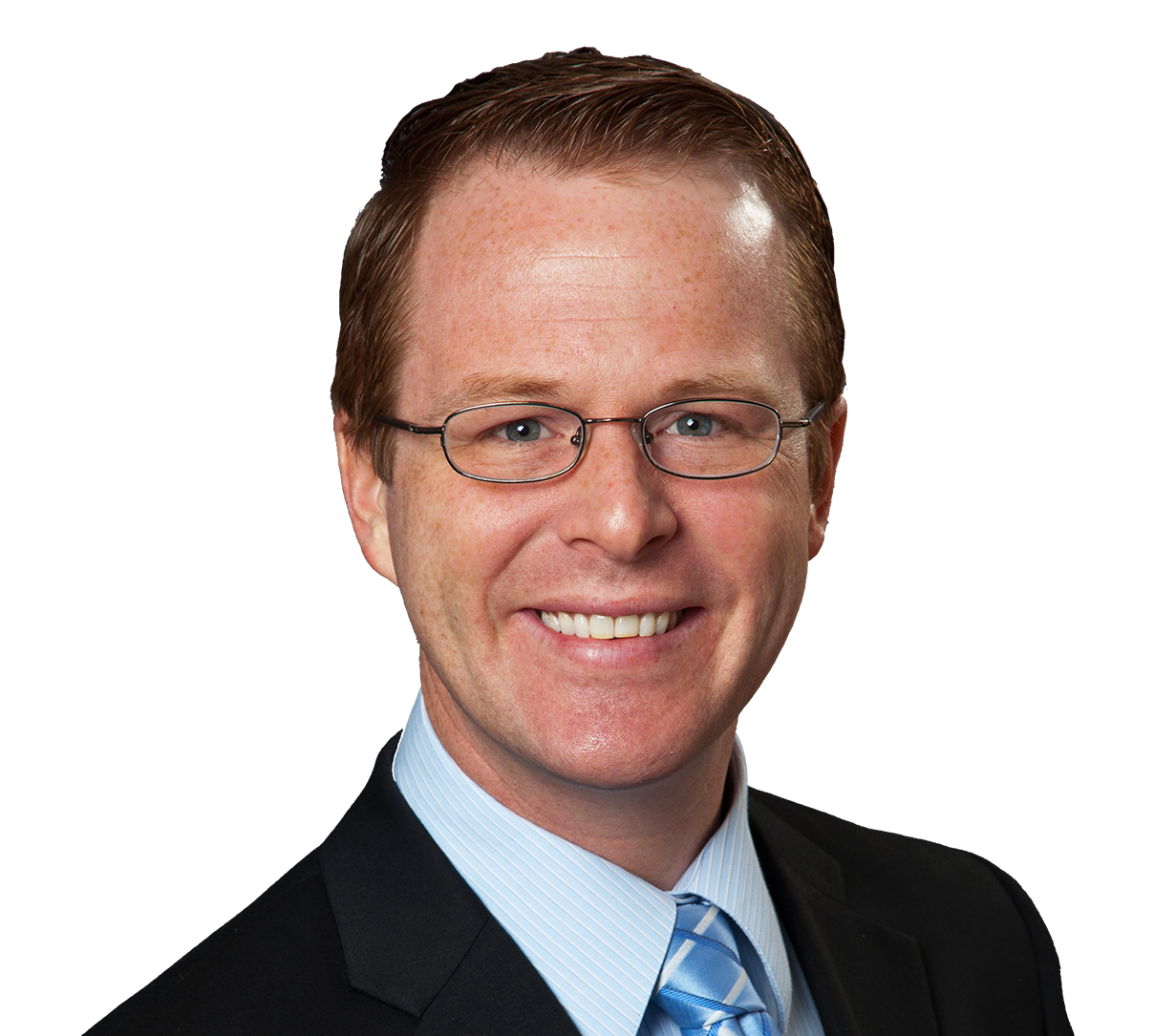 Dr. Michael Scherer is an Assistant Clinical Professor at Loma Linda University, a Clinical Instructor at University of Nevada – Las Vegas, and maintains a practice limited to prosthodontics and implant dentistry in Sonora, California. He is a fellow of the American College of Prosthodontists, has published articles, books, and in-person and online courses related to implant dentistry, clinical prosthodontics, and digital technology with a special emphasis on full-arch reconstruction. As an avid technology & computer hobbyist, Dr. Scherer's involvement in digital implant dentistry has led him to develop and pioneer new approaches with 3D printing, CAD/CAM surgical systems, implement interactive CBCT implant planning, and outside of the box radiographic imaging and digital design concepts.
Frequently Asked Questions
When does the course start and finish?
The course starts now and never ends! It is a completely self-paced online course - you decide when you start and when you finish.
How long do I have access to the course?
For as long as you like! After enrolling, you have unlimited access to this course for as long as you like - across any and all devices you own.
Will I be able to follow-along?
Absolutely! Our course is an interactive, self-guided journey through AllonX dentistry techniques. Additionally, we provide handouts for various sections for implementing new techniques into your clinical practice!